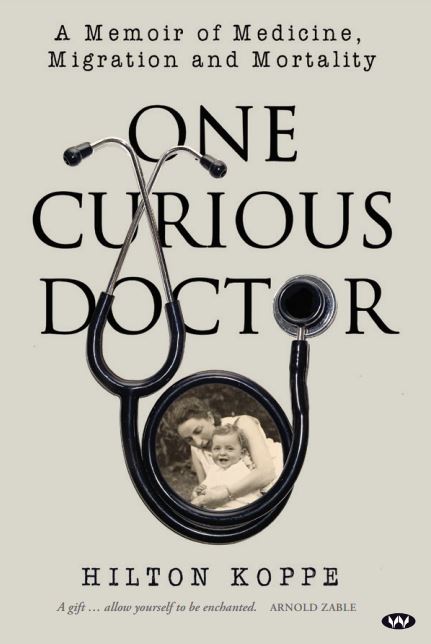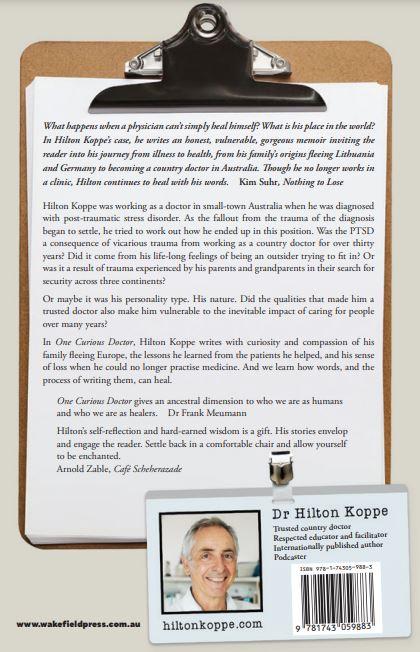 One Curious Doctor. A Memoir of Medicine, Migration and Mortality
Revised and updated edition can be ordered in Australia from my online shop (for a signed copy), from the publisher or by supporting your local bookshop.
Overseas orders best done through your local bookshop or via online retailers
Read on as Hilton discusses how One Curious Doctor came into being....
One Curious Doctor was born out of my experiences working as a doctor in small-town Australia. Some stories have their roots in my personal journey as a migrant growing up in 1960's Sydney. As the descendent of grandparents who were forced to escape Europe to survive. And as the son of parents who died prematurely from conditions that modern medicine, my professional domain, could not cure.
In 2019, these worlds collided. I was diagnosed with Post Traumatic Stress Disorder. I received this diagnosis both as a shock - This can't be happening to me. I'm a doctor. Not a patient! And as a gift - Does this mean I actually get to rest now?
As the fallout from the trauma of the diagnosis began to settle, I tried to work out how I ended up in this position. Was the PTSD a consequence of vicarious trauma from working as a country doctor for over 30 years? Did it come from my life-long feelings of being an outsider trying so hard to fit in? Or was it a result of trauma experienced by my parents and grandparents in their search for security across three continents?
Maybe it was all down to my personality type. My nature. Did the qualities which made me a trusted doctor also make me more vulnerable to the inevitable impact of caring for people over many years?
I do not yet have answers to these questions. But I am keen to share my ponderings with you in One Curious Doctor - the case history of a doctor who is curious to understand more about himself and where he came from.
Praise for One Curious Doctor
What happens when a physician can't simply heal himself? Does he still get to call himself doctor when he no longer sees patients? What is his place in the world? In Hilton Koppe's case, he writes an honest, vulnerable, gorgeous memoir inviting the reader into his journey from illness to health, from his family's origins fleeing Lithuania and Germany during World War II to becoming a country doctor in Australia. Though he no longer works in a clinic, Hilton continues to heal with his words. One Curious Doctor is a medical memoir with heart.
Kim Suhr, author of Nothing to Lose, Director of Red Oak Writing
One Curious Doctor offers the reader an exceptional experience of honesty, vulnerability, insight and transformation. Hilton Koppe, doctor turned patient, turned writer, takes us on his momentous journey of a life awakened by the practice of medicine and the necessity of giving it up. Hilton has listened deeply to the human heart, his patients' and his own. I highly recommend his beautifully crafted memoir.
Kelly DuMar, author of girl in tree bark
In One Curious Doctor, Hilton Koppe writes from the heart about his life and life-changing experiences - the meaning of it all, the joy, the mortality. Take a large dose of Hilton's warmth, compassion and humour as he explores his own dark times and digs deep to try to understand his place in the world. Repeat when necessary.
Mike Hely, writer